The Berlin Travel Festival is a unique fair concept that will explore new trends in travel. It's a three-day event that will demonstrate what travelling means in today's world. With tons of exhibitions to flaunt, the festival is guaranteed to be a fun-filled event where you will find information on the latest destinations, accommodations, tour operators, travel publishers, and much more.
Ayanation will be one of the exhibitors at the Berlin Travel Festival. We will be presenting our motto, "Travel differently and move into happiness" at the fair. Our aim is to help people realize that in addition to exploring the external world, we should also explore the inner world. Through our message, we also want people to be aware that this type of travel is what ensures true happiness and fulfillment. 
So, come and enjoy the festival on November 25-27 at the Berlin Expo Ground. It will be open daily from 10 a.m. to 6 p.m.. You can BUY THE TICKET HERE or get your 50 % discount ticket here.
Kim Gerlach will guide you to unexplored territory; your sense of smell. Activating the senses with active breathing and aromatherapy, you will be surprised which memories and emotions can unlock.
In this 30-minute session, we will gather to experience different natural materials to accompany an energetic shift.
Kim, she/her, is a scent practitioner and breath work healer. She will be guiding us with these workshops into a journey to the inner world. Book your ticket here. 
25th November, Friday, from 14:30-15:00,
26th November, Saturday, from 12:45–13:15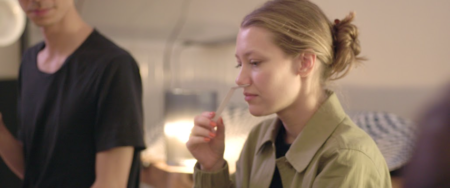 In our 30-min breathwork session, we will be exploring a shift in consciousness through dynamic and active breathing. We can allow ourselves to change the state we are in and explore a heightened sense of being connected with our bodies. We will combine the ancient art of breath control with electronic music. Book your ticket here. 
25th November, Friday, from 14:00-14:30,
26th November, Saturday, from 12:15–12:45

AT OUR BOOTH: ASTROLOGICAL CONSULTATION
Alisa Feist, Starseed Psychological Astrologer, helps her clients get clarity around their psychological patterns, blockages and blind spots so that they can see clearly the blueprint of their soul and reconnect and trust their intuition. She explores psychological archetypes, shadow, subconscious conflicts and karma. Alisa uses different predictive methods to define the most important themes which are currently triggered.
She has been studying and loving the wonderful world of Astrology since she was a child. Having worked with hundreds of people's horoscopes, the focus of her research is Karmic Astrology. Knowing the date, time and place of birth, she gives an accurate insight into multiple layers of consciousness.
Where: Ayanation, Booth E03
When:
25th November, Friday, from 11:00-15:00,
26th November, Saturday, from 11:00–15:00
Besides these great programs that we have for you, make sure that you discover everything that the Berlin Travel Festival has to offer. The great people organising the event have worked hard to bring some of the best experts, speakers and adventurers in travel. So, you can expect awesome workshops, demos, talks, and discussions on everything related to travel. Make sure you plan enough time for an incredible weekend at the Berlin Travel Festival. 

Adress: Berlin Expo Center City, Messedamm 22, 14055 Berlin / Eingang Messe Süd: Jafféstrasse / Eingang Messe Nord: Masurenallee

All the Tickets for Berlin Travel Festival allow also to attend the BOOT & FUN BERLIN, AUTO CAMPING CARAVAN and ANGELWELT BERLIN.